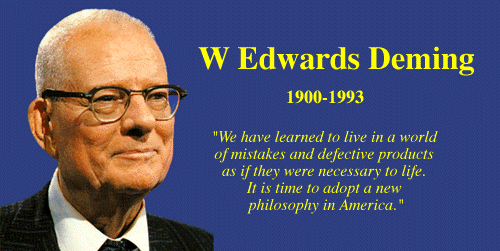 Dr. Edwards Deming was the Deming 14 points and an innovator of modern improved quality production practices.
After the 2nd World War ended Japan was in ruins and was known for anything but quality.
Deming was the American that went in and taught the Japanese the one fundamental they needed to know in order to not only succeed, but to become the dominant force of industry in the world.
So what was the fundamental that Deming taught to key business principals?
Quality always costs less
He taught that quality always costs less and that as long as the Japanese could just focus on constantly improving, they would eventually be globally dominant.
People often say the Japanese make better products and to some degree it is true… but it's not because they have superpowers..
It's because they've consistently focused on the practice of constant and never-ending improvement (CANI) or "Kaizen", as the Japanese call it.
What Can We Take From Dr. Edwards Deming?
I personally believe it's important that we all realize that we all have our own personal "brands" and that everything we do reflects back on us.
If we put in a poor effort or take short cuts, over the short run we might save time, money and/or effort but over the long run we will always lose.
In our jobs, if we go the extra mile, we might get acknowledged, promoted or get greater opportunity to learn and excel. (if you're an entrepreneur like me, you'll probably be a fan of that last one. :))
They say "Anything worth doing is worth doing well"… well I agree but we can't always be good at something when we start.
You don't have to be perfect, just keep making effort, and keep getting better.
Remember, quality always costs less in verything we do…
So just ask yourself, "what can I make an improvement on today?"

Thanks for reading, liking, sharing and following!