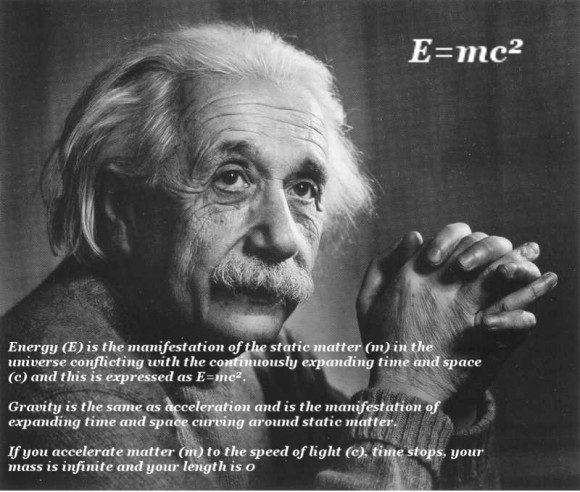 I've been studying a lot of Tony Robbins lately and really like his piece on the power of questions.
He argues that the quality of a person's life is directly tied to the quality of their questions.
In his argument he stated that what led Einstein to discovering the theory of relativity was a series of awesome questions.
It went something like this:
1. What if I could travel as fast as light toward the clock on the wall? What would it look like? Would I see the arms on the clock actually moving?
2. What if I could travel faster than light toward the clock on the wall? Then what would it look like? – He concluded that he would actually see the clocks arms moving in reverse.
3. Finally, would the clock only appear to be moving backwards or would time actually be moving in reverse? – As you can see in the picture above, he determined that time actually does reverse when matter is accelerated past the speed of light.
Now I've never prided myself on being scientific… and haven't ever really looked into understanding the theory of relativity.. but I love this story.
Sure, Einstein, had some serious knowledge on physics but the questions he asked were quite simple.
The Power Of Questions – What kind of questions are you asking yourself?
I've been guilty of asking myself dis-empowering questions like "how could this happen" or "why did that person do that" but neither of those types of questions help me in any way.
The best types of questions are the ones that lead us to progress.
The mind is so amazing, whatever we ask it, it finds an answer… If we ask it, "why can't I get this?" it will feed us all the evidence it can find… "because you're slow", "because you've never been good at this". "because you can't keep up"…
The Power Of Questions – Introducing A New Pattern
Now that you've read this, I encourage you to do what I did when I learned it and start monitoring the type of questions that you're asking yourself.
When something goes wrong, I do my best to ask, "how can I use this" or "What can I learn from it"… The funny thing is, I've actually used this to get some great answers.
Even when things aren't going wrong, still ask the question. "how can I get more of XYZ?", "How can I achieve this?" "what if I could do…"
I thought this was interesting and hope you did too!
Thanks for Sharing and Following!