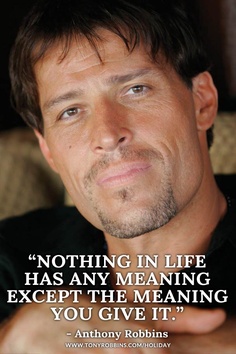 I love this thought. We color everything in our lives with our interpretation.
How do you interpret events in your life?
A wonderful exercise is to think back to a "bad" thing that happened in your life..
When you look at it critically, can you honestly say that not one good thing came out of it? Likely not… if it was a divorce, maybe it made you stronger or helped you realize a change needed to be made in your approach.. if it was a death in the family.. maybe it helped you get in touch with your emotions.
When my Dad died it was pretty much the worst thing that I could have imagined happening… In fact I would never even admit it was real.. or happening. He was sick for 6 months and it was "inevitable" as the doctors had said…
I was emotionally numb.. and if anything, I was cynical.. and mentally sabotaging myself consistently.
I remember walking out of the hospital with my Mom just after he died and saying to her "I just don't know what to make of this… I want to believe he's still with me but I just feel so cynical about this.."
My Mom was pretty strong for having just lost her husband and just said something along the lines of "well that's a problem.. you need to figure it out because that's no way to live"
From that moment on I was determined to change my attitude and approach..
It was that event that woke me up to the power of personal development, reading and the non-school version of continued education.
So while almost three years have passed since my father died, I can look back and give it any meaning I want.
I loved my dad ad I choose to think his death brought my family closer together and made me a better person.
Neither are things I needed to think of or focus on..
I could have just sat there and said "why me?"… I'm glad I made a change
Taking Control
It gets me pumped up to know that we can chose to look at things and give them meaning in whatever way we please!
Did something happen in your life that you've given a dis-empowering meaning to?
How can you look at it differently to turn it into a positive?
I realize this may be a large request but I encourage you to take this approach anyway. It might just be the key to being significantly happier, every day!

Thanks for sharing and following!