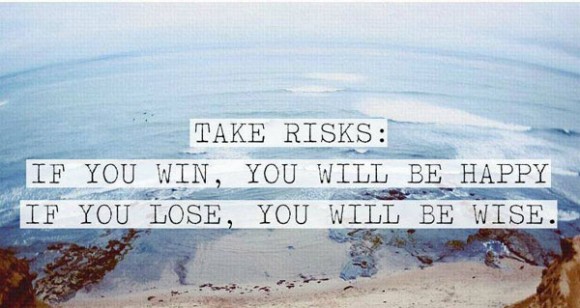 I really like this quote.. although I think it could be a bit better by saying the a you'll be "wise and happy" if you lose..

Fitting with the theme this week, happiness definitely shouldn't be conditional!!

The Gambler Inside Of You
We are all born with a need and desire to take risks. The challenge today is that so many are playing it safe.
No one wants to lose.
But what if losing wasn't really losing?
What if losing was just feedback?
In reality that's all it is.
As part of my business I've done some online advertising. Not every ad was a hit.. in fact, with many I lost.
but you know what happens?
The more I tried, failed and pick myself up again.. the more effective I became…
…and the better results I got.
I could never get better if I didn't practice.
Edison never would have invented the light bulb if he hadn't failed 5000 times before.
I used to play it so conservative.. I would never risk anything. I wouldn't even go talk to a pretty girl I caught eyes with and would always be wondering what might have been.
(Luckily I finally got fed up and took a risk with my girlfriend Jordan and have a lot of joy in my life because of it)
Are you standing in your own way?
The Facts
Maxwell Maltz believes that our human compulsion to take risks is what leads people into casinos and variety stores to buy lottery tickets…
or even worse, in some cases it leads people to mental and physical addictions to drugs and alcohol.
If you find yourself doing these things on a regular basis, there's a good chance that your subconscious is trying to tell you something…
Why waste this positive human urge on something designed to lose?
If you're going to bet on something, why not bet on yourself?
If you're determined to make your dream happen, no matter what, it's like betting on a fixed game when you know the winner.
Decide that even if you fail you will have learned something and will be wiser… and that is completely true.. if you think back in your life, can you honestly say you didn't learn something when things didn't go as planned?
On your deathbed, you'll probably never look back and regret trying… but if you don't take a risk, you might die wondering.
I hope today's post inspires you to go after something you've been wanting to do.
Thank you for sharing this post and for subscribing to my blog!